These Pinmark families have all experienced our unique approach to finding the right dog. Contact me today to learn how a Pinmark Retriever can be part of your family.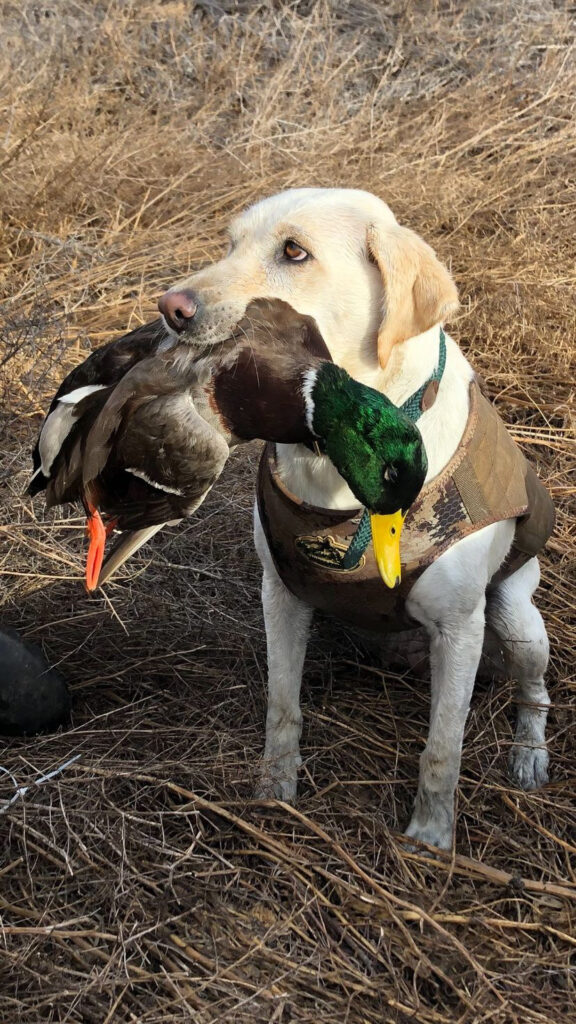 I've had Grace for going on two years now, she's hands down the the best dog I've ever had. She does everything I need and more.  She's retrieved doves, ducks, geese and pheasants for me, she's well mannered in the blind and you don't even know she's there until it's time for her to go to work. She was a great match and the process getting her was definitely a pleasure and couldn't have been easier. Ted really knows what he's doing when it comes to dogs and can really do a good job pairing up a dog with someone and he definitely will find you a great hunting partner. – Jim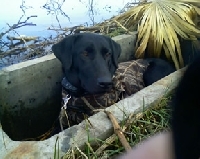 Ted, We took Diva out about 6 times last year and she really did a great job for being so young. She is going to be a great duck dog and is already a great family dog. Thanks for a great dog and i have been referring you to other guys at the club. – Andrew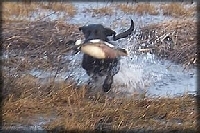 These were taken at the Jr. Hunt at Grizzly Island. It was the first time I had seen Jetta in action, she is just as fanatical as my boys. She was awesome to watch. Six great retrieves. Please feel free to use or just enjoy these pictures. – Barbara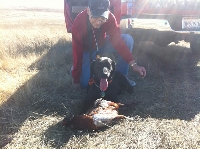 Girly first trip hunting …She did well ..Very birdy and great retrieves…. I am looking forward to taking her duck hunting… I am very happy with her.. she has surprised me with her aggressive hunting style on pheasants …. as she is mild-mannered at home. – Bob White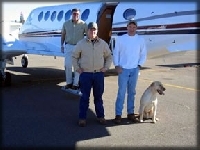 Here is a picture of Gunny right before he got on the plane to travel home with me. He's a great dog!! Ted, Gunny is doing great!! I really appreciate your willingness to find me such an exceptional dog!! I've hunted him several times and he just doesn't miss a bird. Thanks Again!! – Brian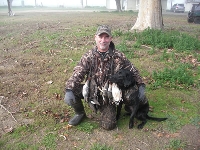 Ted, Just wanted to tell you how incredibly happy I am with Grace. She is by far the best dog I have ever had. I couldn't ask for a better friend or companion at home or in the field. In the short time I have had her we have formed a very strong bond with each other. She is so loving and friendly, she gets along with the other dogs at my club great, and the other members think she is a special dog. It is pretty amazing how well she did out in the blind with me; by the end of the season, she was performing like she had been hunting for several years already. She learned and picked up on things very quickly. My hunting partner and other members I hunted with were amazed at how well she handled herself and followed instructions. That is one of the things I really like about Grace is how well she minds me. I am sorry we didn't get a chance to hook up before the end of the season I really would like to do that next year. We will have to stay in touch and if you ever need a good reference don't hesitate to call me. I have already told several people where I got my dog from. – Chris Wright.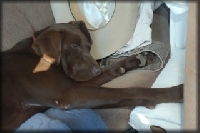 Hi Ted, I was out yesterday with Jas' again. If I just let her do her thing, she knows what to do and we seem to be gaining great trust in each other. I couldn't ask for a better match of her abilities and my type of upland hunting. Thanks for finding me such a wonderful dog. – Chuck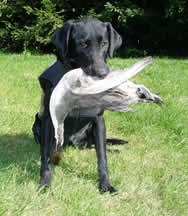 Hi, Ted This is Cole Sorrell, Ruth and I have been having a blast together, whether it has been out in the field hunting or in my backyard training. She is such an affectionate dog, and my family loves her. She is really coming along in her training, and I am going to enter Ruth in the next Hunt Test in California. Both your wife and you were great to deal with when finding my dog, and I would and have been recommending people towards your direction ever since I had a pleasant encounter with you two. Ruth did great on our first hunt and retrieved all 26 birds shot. Thanks for a great experience, and I will be looking your way in the future when I need another great quality dog.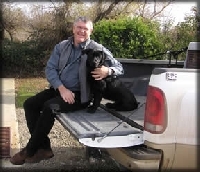 Ted, Thanks for finding me such a wonderful dog. Java is a pleasure to hunt over and gets along great with my family. I also appreciate your following up to ensure that things are going well. Again, Thanks for taking the guesswork out of finding a dog! – Herm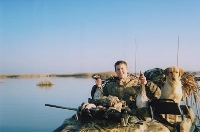 Hi Ted: The waterfowl season has come to an end. We had a great season at our club. Hammer, the yellow lab you located for me was wonderful. He had all the qualities you told me he had and more. He retrieved 489 ducks and 7 geese during this past season. He has one of the best personalities of any lab I have ever been around. He is a great dog and an even greater pal. I am also impressed with how he handles himself hunting pheasants. So far he has flushed and retrieved 16 wild pheasants and 58 planters. We are going to the pheasant club once more this season. Thanks again for finding me such a nice dog!!! – Jim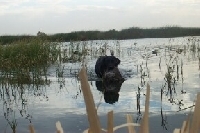 Hi Ted, I hope you had a good opener. Here is Beau with a nice hen Mallard. He did his job and brought in two nice limits today. Mallards, sprig, and widgeon were flying all about. He has become a great duck dog and companion. Thanks for picking him out. – John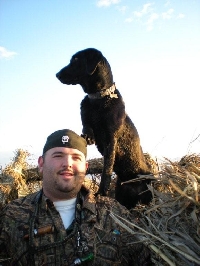 Here's a little report from the Toboni family. Shooting the coon ranch. Lysia is now two years old and has turned out to be a great hunter and retriever. Her blind etiquette could use a little work, but she never gives up. You can always use us as a reference if you need to; it would be our pleasure. I hope all is well with you. Larry and John Toboni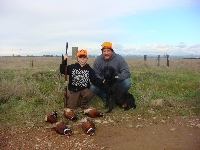 Thank you again for Annie. She has worked out great! A fantastic family dog and has incredible desire in the water and field. I have her working her back, overs, and blinds on whistle now! She has been so eager to learn! Not sure if you got a call, but I sent someone from www.duckhuntingchat.com your way. He wanted a started dog and asked about ours! Nothing but a good review! I hope it worked out! Thanks again, Rob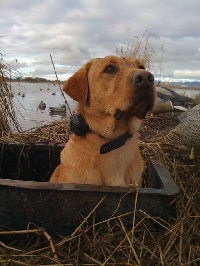 Bailey is a really great dog in the blind and has been doing exceptionally well with over 150 retrieves so far this year. He's doing such an amazing job that It's hard to believe it is only his first hunting season! Bailey also immediately fit in well at our home and is now just one of the gang. Thanks so very much for finding Bailey for us; we couldn't be happier with him! – Rob Battles